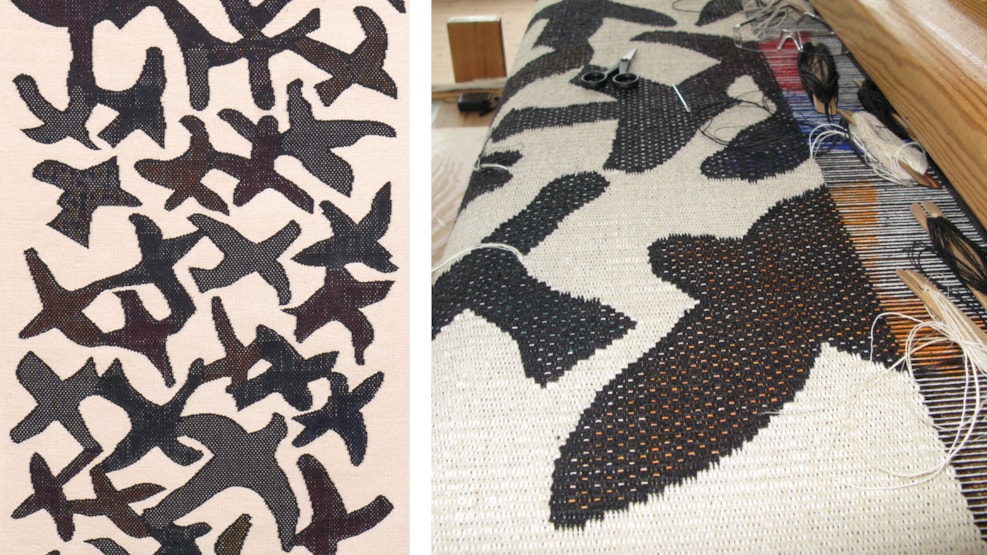 Langbordspåskebuffet i Jette Nevers værkstedet
8/4: Påskefrokost ved langbordet ved en ad Danmarks førende væversker og tekstildesignere. 
Påskefrokost i værkstedet
Langbordspåskebuffet i værkstedet ved væverske Jette Nevers. Inden frokosten som leveres af Restauranten Generalen, Tranekær vil Jette Nevers vise rundt på hendes værksted og blandt andet fortælle lidt om sin karriere, vævning og inspirationskilder.


Praktisk information 
12.00-13.00 Rundvisning i værksted og kort powerpoint præsentation
13.00 - ca. 15.00 Påskebuffet
Maks antal deltagere 14 personer. Pladsbestilling nødvendig på 24848729
Pris: påskebuffet 360 kr/person. Drikkevarer købes på sted
Biography
Jette Nevers (b. 1943) graduated from the Danish School of Design in 1965, since then she has been employed as a teacher at the Kolding School of Arts and Crafts and worked from her own studio on both her own projects and on designs for fabrics for large companies including Georg Jensen Damask and Kvadrat.
Jette Nevers creations and her many exhibitions both in Denmark and abroad, have had a clear influence on Danish textile art.
If you would like to see more…
You can visit Kunsttårn 4 (Art Tower no 4) near Korsebølle, where Jette Nevers work 'Fugle' (Birds) is exhibited.