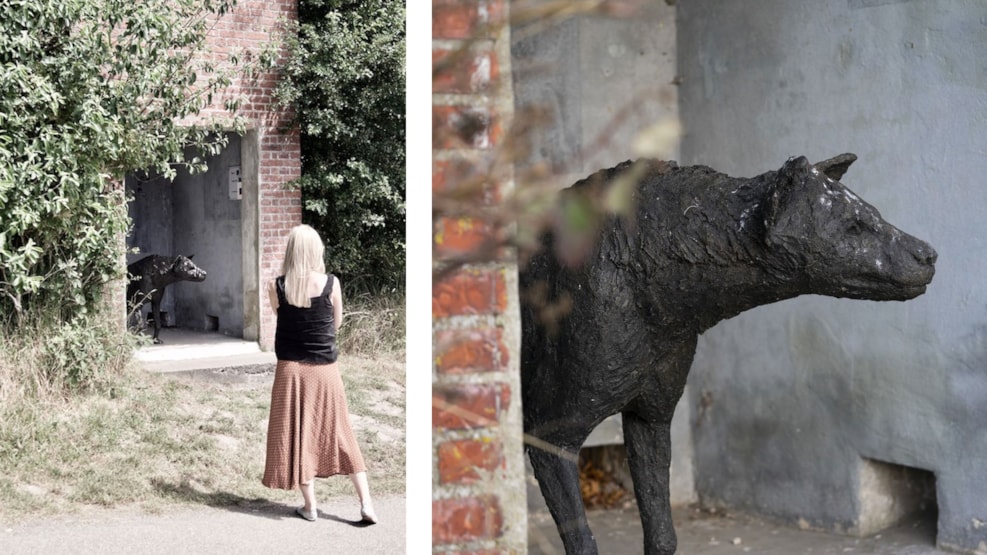 Art Tower 3 - Lauge Voigt - Don't judge a dog by its coat
Lauge Voight's hynea pokes it's nose out of the art tower and takes in the beautiful view over the Botofte's woods and wetlands.
Art Tower 3:
Artist: Lauge Voigt (1972 Gentofte). 
Artwork: "Man skal ikke skue hunden på hårene". 
Crafted from fibre concrete. 
Created: 2020
"Don't judge a dog by its coat"
 A hyena pokes its snout out of this art tower - an alien in an otherwise idyllic landscape. The hyena is an analogy for the preconceptions that we humans often have about other people. The hyena looks like, and is often perceived as a type of dog, even though it is in reality more related to cats. On top of that, for many people, the hyena is the very incarnation of a disgusting animal with a hideous "laugh" when in reality they are very social animals with strong females leading their packs. For Voight the hyena clearly demonstrates that not everything is what it seems to be, and things are rarely as clear cut as one first might assume. This is a theme that Lauge Voigt often returns to in his art. 
The hyena is made from iron and wood coated in fibre concrete, which creates a raw and unpolished impression.
Lauge Voigt (b. 1972)
Lauge Voigt works with figurative sculptures of people and animals, which all revolve around the same theme, namely the way people meet, their relationships and the biases they may show. 
Voigt has a background in the film industry, working for many years as a make-up artist and a props designer, creating make-up effects and props for many Danish and International productions. He has also taught make-up design and modeling and casting techniques at schools in both Denmark and England.
Alongside his career in the film industry works as an artist and sculptor. 
Langeland's Art Towers - a unique way of experiencing art
Denmark's longest art exhibition can be experienced by visiting 12 former electrical transformer towers on Langeland. The art towers give visitors an artistic experience in the heart of the Langeland countryside.
From North to South and East to West, you can explore the cultural landscape and enjoy art in rural peace and quiet.
The towers are open all year round. A tour around them all will always offer a new experience, influenced by both the season and weather. 

You can read more about the  12 art towers at https://www.govisitlangeland.com/langeland/discover/art-towers