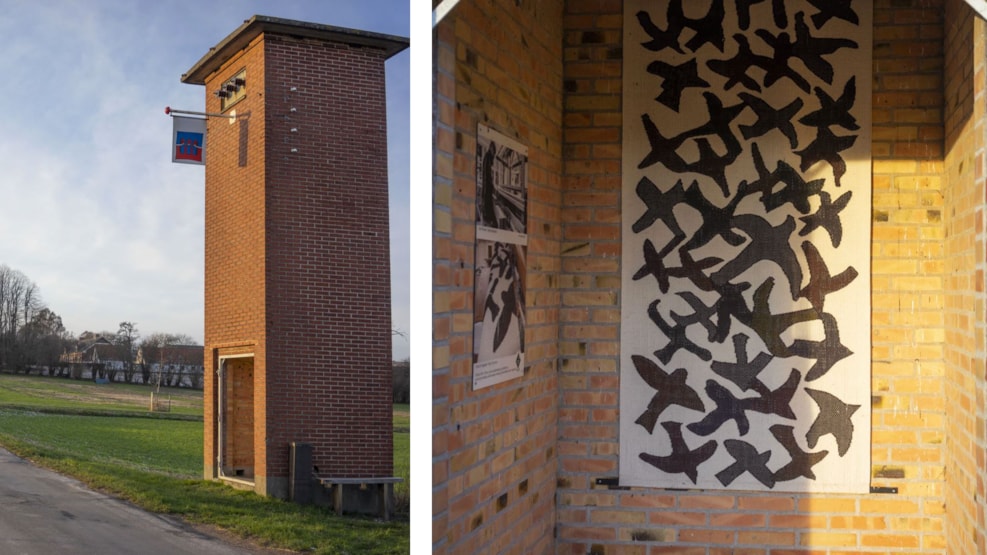 Art Tower 4 - Jette Nevers - A Flock of Birds
In Art Tower 4 near Korsebølle, Jette Nevers - who is often considered to be Denmark's leading weaver - allows a flock of birds to take off from (or land on) one of her carpets.
Art Tower No. 4: 
Artist: Jette Nevers
Artwork: "A Flock of Birds"
A tapestry 300x100 cm
Created: 2020
A Flock of Birds
In this tower, weaver and textile designer Jette Nevers allows a flock of birds to take off from (or land) on a carpet hanging on the back wall of the tower. Her work, which measures 300 x 100 cm, takes advantage of the height of the exhibition space and is woven as a tapestry. It's simple, graphic design is typical of  Nevers' work.
This work is inspired by the flocks of migrating birds that she can see from her home in Stoense Udflytter.
Jette Nevers
Jette Nevers is considered as one of Denmarks leading weavers and textile designers. She graduated from the Danish School of Design in 1965, since then she has been employed as a teacher at the Kolding School of Arts and Crafts and worked from her own studio on both her own projects and on designs for fabrics for large companies including Georg Jensen Damask and Kvadrat.
Nevers is perhaps best know for her large decorative projects for Danish Churches: woven altar frontals (the fabric that covers an alter), large  chancel carpets and chasubles all created using a combination of weaving, embroidery and print. Her style is simple and graphic, but even though the textiles she produces may express themselves very differently, the unmistakable touch of Jette Nevers can always be felt.
Langeland's Art Towers - a unique way of experiencing art
Denmark's longest art exhibition can be experienced by visiting 12 former electrical transformer towers on Langeland. The art towers give visitors an artistic experience in the heart of the Langeland countryside.
From North to South and East to West, you can explore the cultural landscape and enjoy art in rural peace and quiet.
The towers are open all year round. A tour around them all will always offer a new experience, influenced by both the season and weather. 

You can read more about the  12 art towers at https://www.govisitlangeland.com/langeland/discover/art-towers