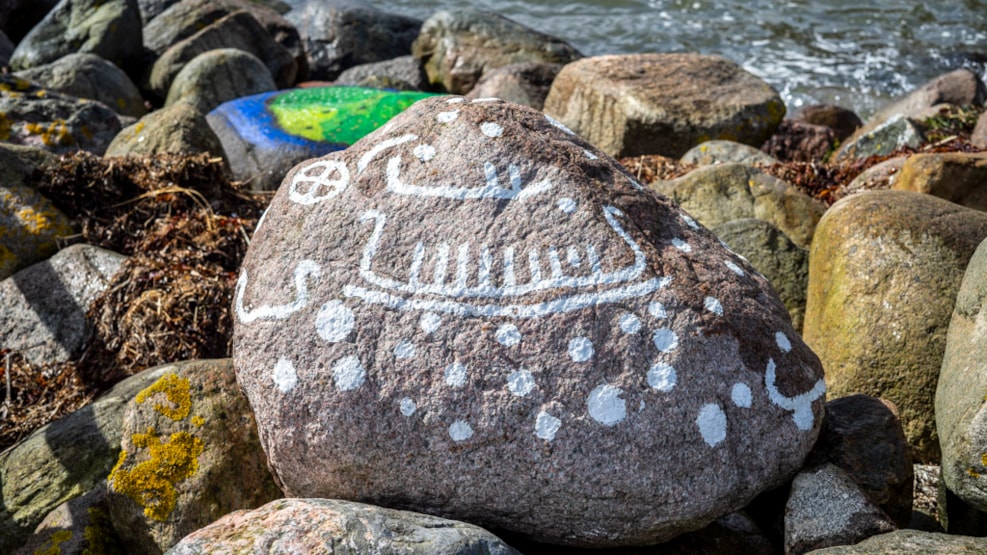 Bemalede sten i Lohals Havn, Anni Printz, Dorte Eisen, Leif Kjøl og Jan Axel Starup
A newly renovated harbour with a wonderful atmosphere - offering shelters, a grill area, ice cream parlour, music, children's playground and a wonderful sandy beach.
The harbour lies on Langeland's west coast, around 6km from the north tip of the island. It offers wonderful views of the South Funen Archipelago.
Modern Harbour Facilities
The newly renovated service building 'Banjen' not only features toilets and showers but also a kitchen, depot , and lounge - with tv, air-hockey and table football - all for visiting sailors.
Water and electricity are available on all jetty as well as free WiFi.
Perfect for the sailing family
The harbour has a maritime playground for junior sailers, a bathing area with steps, and a saltwater pool for young children (20cm in depth).
North of the harbour is a 'Blue Flag' beach with a bathing jetty.
Shelters
If you need extra space for sleeping, the harbour offers two simple shelters (4 beds)
Sightseeing
Bicycle hire is free of charge for visiting sailors - borrow a bike and explore the beautiful and varied countryside of North Langeland.
Or why not get out your walking boots and follow the 'Archipelago Trail' footpath that starts from the harbour.
It is also possible to hire SUP-boards at the harbour.
Summer Events
Every Friday and Saturday throughout the summer you can enjoy free live music at the harbour.
The annual ' Frikadelle Festival' is one of the summer's absolute highlights - a hearty celebration of the humble Danish meatball!