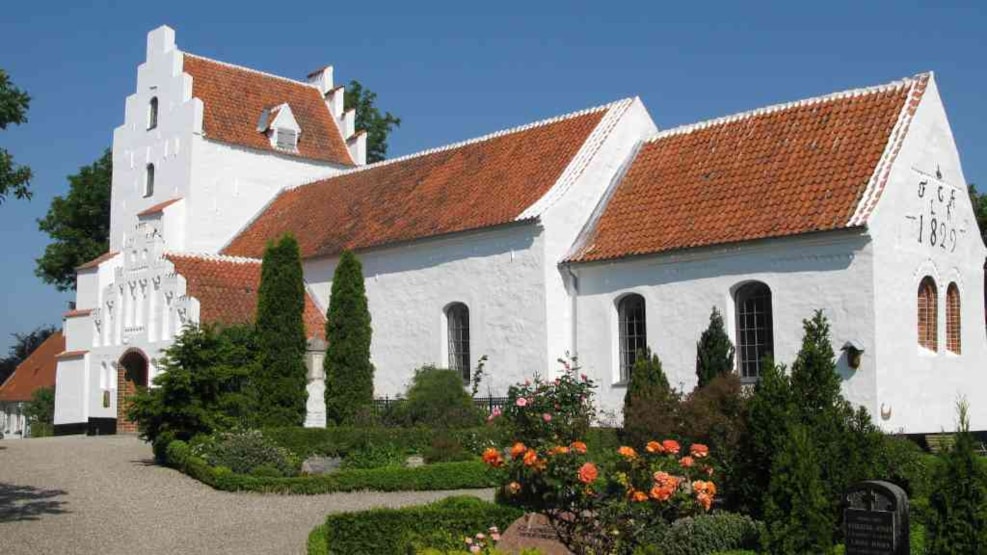 Bøstrup Church
Bøstrup Church was originally built in the 13th Century and has a very beautiful exterior.
The main nave is part of the original church building, and it also still possible to see the small Romanesque windows from that period. It is also believed that the original church building had an apse, but no porch or tower.
A tower and 2 ceiling vaults were added after the reformation, around 1570. The interior of the church was painted with murals, and the church had the reputation of being very beautiful. Unfortunately the murals have long since become dilapidated, as has the original Renaissance altarpiece. The only part of this altarpiece that can still be made out is the eye of God at its top. For the last 200 years, both the exterior and interior of the church has been whitewashed. To commemorate the restoration of the church tower in 1829, this date together with the initials of the local count can be seen on the end wall.

The exterior of the church features a number of carved bas-relief blocks which can be seen here and there set into the walls. They feature a wide range of different motivs, including a person fighting with a lion.
The fine churchyard is the final resting place of Mrs Constance Leth, the muse and unrequited love of the Danish poet, historian, teacher and pastor N.F.S. Grundtvig.
The church is open to the public.