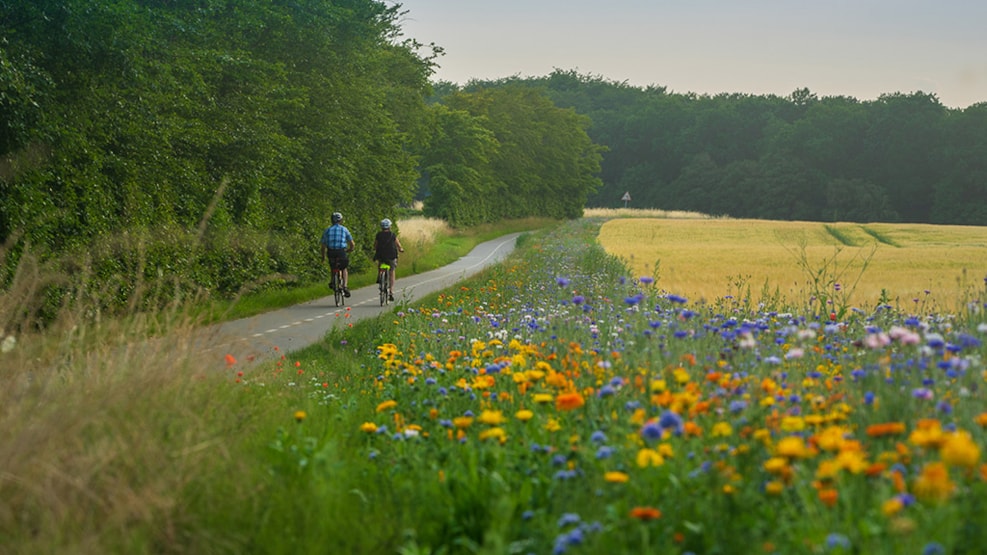 Cycle Routes 80-81 North Langeland
Rudkøbing - Lohals - Spodsbjerg is a 72km long cycle route that takes you through the beautiful scenery of North Langeland. The route is well signposted, 67km of which is along tarmac roads, the remaining 5km along well-made gravel tracks.
Cycle Route 80  Rudkøbing - Lohals
This tour starts in Rudkøbing - Langeland's largest town. Here you can walk around and enjoy the many beautiful houses and gardens in the historic town centre, a number of which are listed buildings. From Rudkøbing the route heads north, taking you along narrow county roads though the woods and open fields of west Langeland, before finally ending in Lohals. Along the way the route passes many stone-age long barrows and passage graves -such as at Ravnebjerg Forest.

Cycle Route 81 Lohals - Spodsbjerg
Cycle route 81 takes you from Lohals to Spodsbjerg through the eastern side of North Langeland. Along the way are many sites worth stopping to visit, such as the Tobacco  Drying Shed just south of Tranekær. We also recommend making a detour to visit Stengade Strand to see the beautiful beech forest that grows right next to the beach.
The marked cycle routes do not take you through the historic village of Tranekær with its impressive castle. But it is well worth making a short detour of around 1km to see Tranekær Castle gardens, TICKON and the Medicinal Gardens in Tranekær.
See the map prepared by Denmark by Bike with a detailed description of this route.