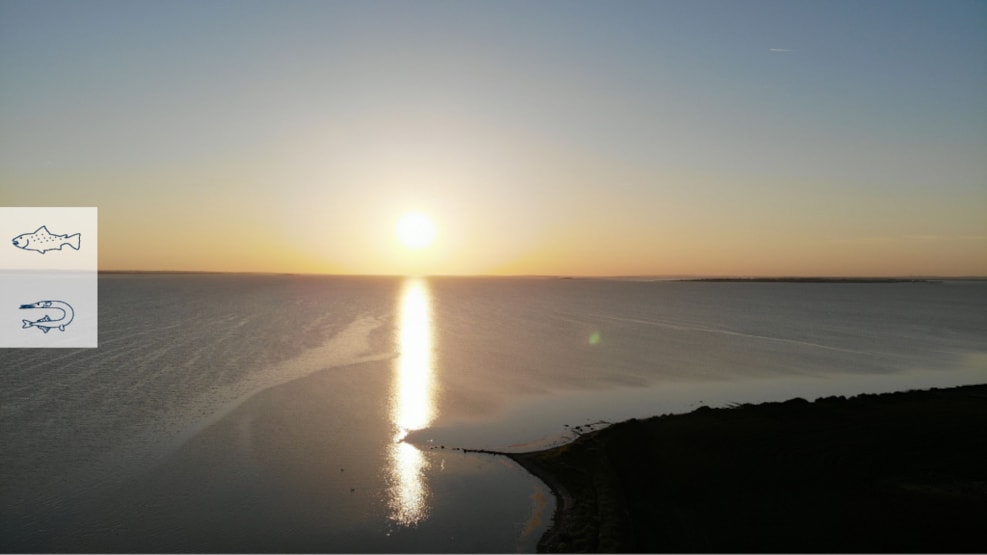 Fishing spot: Kædeby
The varied seabed found along the coast here provide the perfect conditions for hungry sea trout.
Fishing spot: West of Kædeby Church
Park next to Kædeby Church and walk for around 800m to reach the coast (down the farm track opposite Haugbøllevej).

Here you can find a good, somewhat different, stretch of fishing for seatrout. The seabed here is varied, with seaweed, eelgrass, stones and sand, which provide perfect conditions for hungry seatrout hunting for food.

Waders are recommended here.
Visit fishingdenmark.info to find up to date information on weather and water conditions. The best fishing here is from March to May and from September to November.

Fishing spot: Vester Korse
The beautiful "leopard spot" seabed found at Vester Korse, with its dark patches of rocks, stone and seaweed on a sandy bottom, provides optimal conditions for seatrout searching for food items along the coast.
Waders are recommended, but it is possible to fish here without them.
See details about this fishing spot here. The best fishing at Vester Korse is from March to May and from August to October.

N.B. You must have a valid fishing license to fish here. Purchase your fishing license here.

Season:
Always remember to check the closed-seasons for individual species and fishing spots.