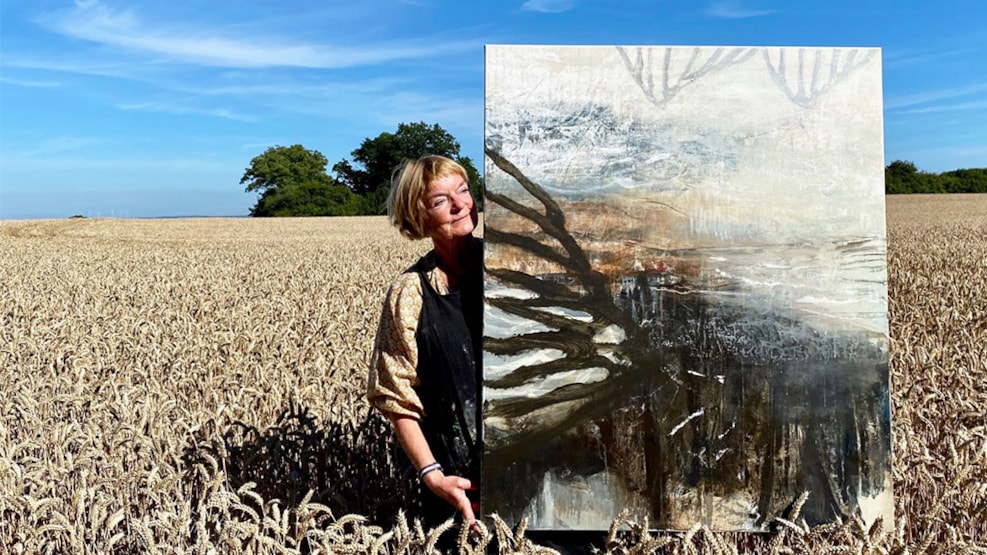 Gitte Buch - Painter
The themes of Gitte Buchs work are the earth, water, land, memories and fragments of both nature and culture. The large reflected in the small - exposed to struggle and loving exaltation and expressed in natural-lyrical abstractions on canvas and paper
Exploration, reflection and existence
"For Gitte Buch, painting is an act of exploration, reflection and existence. She approaches her work with a challenging, almost sacred purity, and her work express the quest with a breathtaking 'otherness', midway between the painfully beautiful and the raw, ugly and scarred which is also an aspect of life.
For a number of years now the artist has worked extensively with Icons. Many elements of her visual universe can be directly related to her immersion in this subject, perhaps even her more modest paintings which use "the bowl" as a motif." - Preben Winther, author and art critic.
Biography
Gitte Buch was born in west Jutland in 1954, she grew up on the island of Samsø and completed her education as a teacher in 1980. She moved to Langeland in 1984, where she was one of the founders on the Art High School in Magleby, where she taught painting and other subjects. Today she lives and works near Bøsseløkke on the east coast of south Langeland. Buch is a member of the South Funen Artists Association and exhibits at both Galleri Rasmus in Odense and Gallerie ArtC in Haderslev.
Visit Gitte Buch
Gitte Buch is happy to receive visitors at her studio. To arrange a visit please call her in advance.
If you would like to see more….
You can visit Tryggelev Church, where Gitte Buch has decorated the altar-piece.  Additionally Gitte Buch takes part in Artist's Open Door, The Summer Exhibition at Galleri Nowhuset, and temporary exhibitions over the whole country.