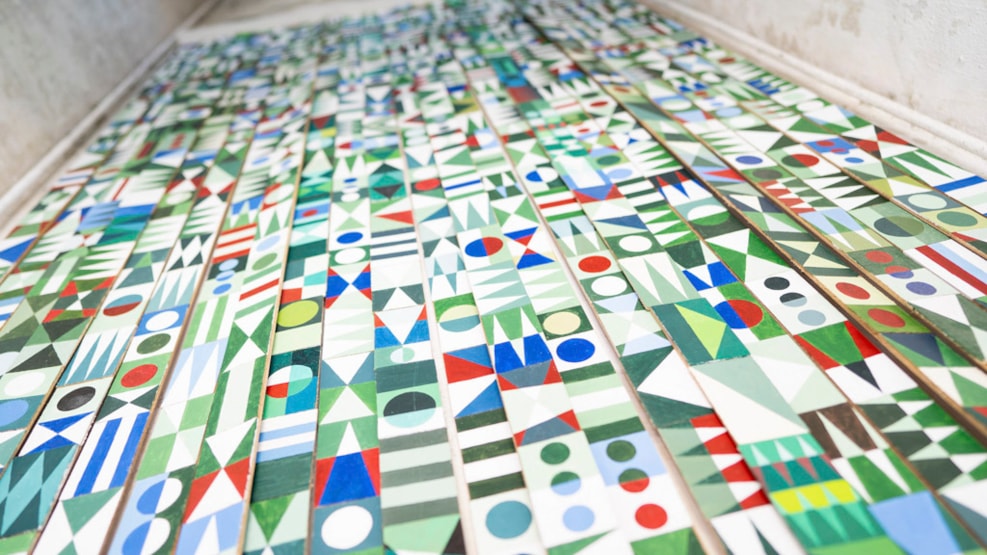 Hans Kjær - Painter and Sculptor
Experience Hans Kjær's colourful universe in his gallery on Torvet, Rudkøbing's Town Square. Hans Kjær works with oil paintings, reliefs and sculptures. His naive imagery has an immediate impact and appeals to the young and old alike
The joy of recycling
The artist Hans Kjær mainly works in wood, preferably wood that has been used before and has a story to tell. He has a special fondness for recycled materials and found objects, which will often be the starting point for his artworks.
Playful and unpretentious
Hans Kjær believes that his art should be easily understood by everyone, both children and adults. His artworks are intended not be too solemn or serious, despite the fact that for many years the imagery he used revolved around religious themes. At the moment, however, he is especially interested in elephants.
He often uses this unpretentious and playful approach in larger decorative projects, on which he involves children in the creative process itself. Hans Kjær, in collaboration with children, has decorated a number of schools, including schools on Langeland.
Biography
Hans Kjær was born in 1943 near Lejre and moved to Langeland in the mid 70s. He is a self taught artist.
If you would like to see more….
You can find an example of Hans Kjær's work exhibited in Kunsttårn 7(Art Tower no 7). In fact Kjær came up with the idea for Langeland's Art Towers - Denmarks's longest art exhibition, which you can read more about here.
Additionally he is also the man behind the Art2change association, which works to give socially and economically disadvantaged people the opportunity to use art and creativity as a tool to both improve their own situation, and to develop a more equal society. Last, but not least he participates in the annual Artists' Open Door event.
The Gallery is open Monday-Friday 13.00-17.00 and Saturday 10.00-13.00.