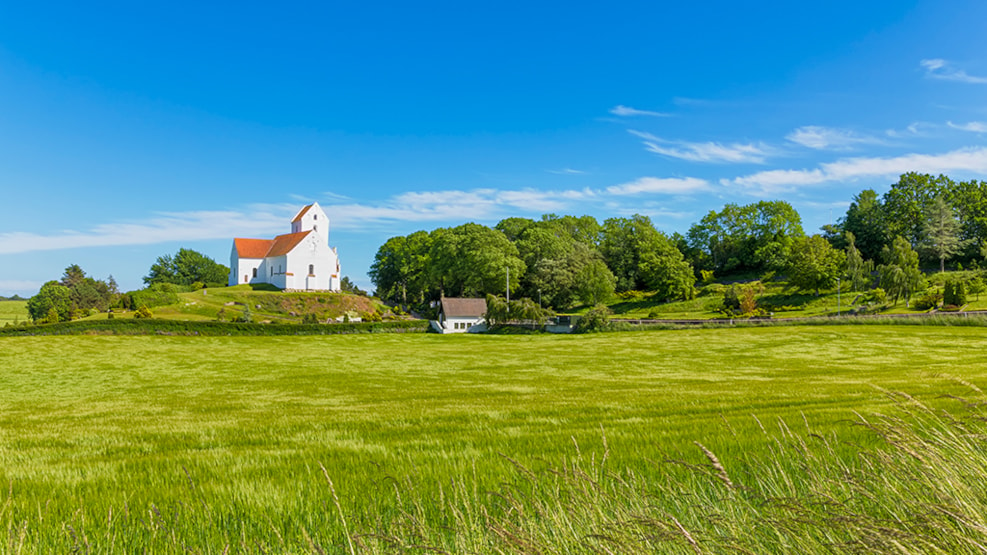 Humble Church
Humble Church, with its striking hilltop location, can boast of having the oldest church bells on Langeland which date back to 1430.
As many other churches on Langeland, Humble Church was built in or around the 13th century, and many features from that time can still be seen. Both of its two Romanesque doors are still intact, and the southern door continues to be use to this day,. The traces of bricked up round arched windows and the original domed vault from that time can be seen. Major restoration work was carried out in the 1800s and new windows were added, but the outlines of the original can still be made out.
Inside, the baptismal font is of particular note, with its fine Romanesque carvings of acanthus vines. It's foot features heads carved at each corner, lilies and crosses. An 18th century painting depicting the crucifixion can also be seen in the church. A carved bas-relief granite block bearing the image of a bearded man, can be seen built into the wall of the rectory.Presumably it was originally from the church itself.