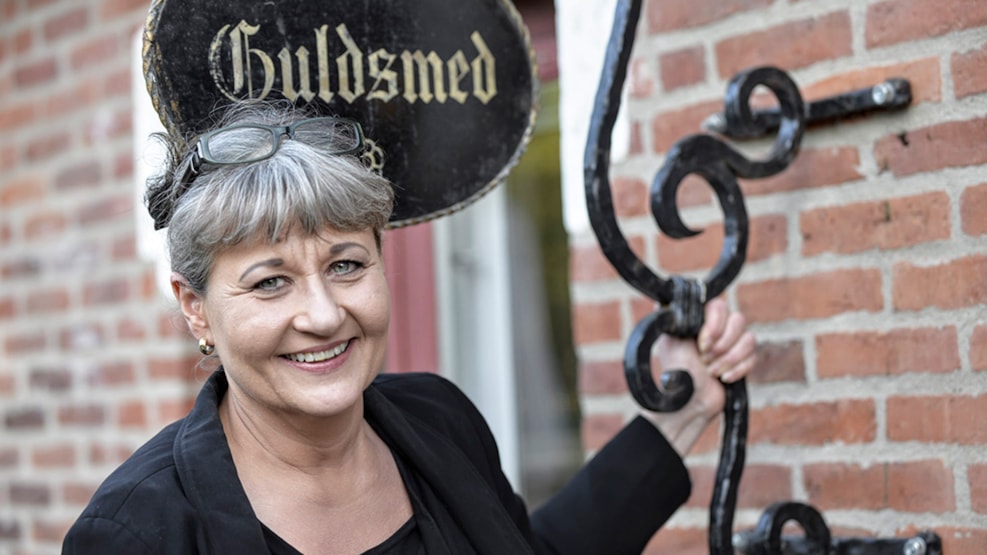 Janne Egstrøm - Goldsmith
Goldsmith Janne Egstrøm can be found in the old Feed Master's House near Tranekær Castle and the Medicinal Gardens
Bringing new life to old jewellery
When you visit Janne Egstrøm's boutique 'De Gyldne Gemakker' you can explore her own personal world of jewellery and perhaps find inspiration for transforming your old gold and silver into a new and personal design. The shop also sells vintage and retro jewellery together with new jewellery from well known brands. A selection of spare parts and chains is also available. The workshop is open by prior arrangement, but the shop has fixed opening hours.
Sustainability and fair trade
Janne Egstrøm works in a sustainable manner following the principles of "Fairtrade" when making her jewellery. She has ensured all the products she sells are not produced by child labour and all diamonds are Conflict Free. Her jewellery is often inspired by nature, as well as the animals and the people who surround her.
When reworking inherited jewellery, Egstrøm always uses the uniqueness of the item and what it represents to the customer as her starting point.
Biography
Janne Egstrøm has worked as a professional goldsmith since 1986.
Opening hours
The season starts at easter where the shop is open during weekend and holidays from 12-17. During the last week of June and all of July and August the shop is open every day from 11-17. September during weekends 12-17.
During the autumn school holiday (week 42) all days 12-17, plus some weekends during December.
If you come during the opening hours the charming Café Orangeriet will also be open.