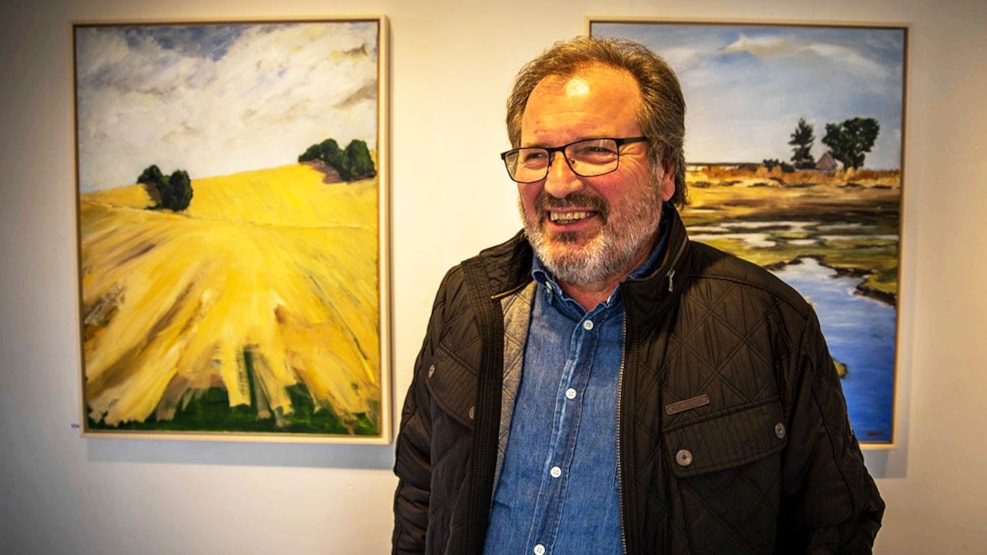 Keld Nielsen - Landscape Painter
In his paintings artist Keld Nielsen reflects how the landscape around us is constantly changing
A fascination of landscapes
The landscape is an inexhaustible source of inspiration and fascination for Keld Nielsen. For over 30 years he has explored the landscapes of Langeland with particular interest. With a steady hand, he expresses the impressions he receives during his daily walks in his paintings.
Calm in a chaotic landscape
"When I moved to Langeland in 1986 my career as a painter finally took off. The scenery here was fantastic! Today, fortunately, my work here is far from being finished, pictures are still begging to be painted, and not just here on Langeland. I also like to travel to find good subject matter. To find an exciting motif and see it with my own eyes. What I paint is a single moment in time. When I recognise something in the slowly unfolding chaos around me I am able to dive deeper into the picture. I seek that moment of calm in a chaotic landscape.
The artistic process
Keld Nielsen works mostly with acrylic paints on canvas. He works in a classic-modernist style with an expressive rhythm and colour palette, which emphasises both the lyrical and dramatic nature of his compositions. Sometimes he works from a photograph, sometimes he sketches and paints "in the field" and at other times the whole process takes place in his studio in Kædeby, but his starting point is always the landscape.
Biography
Keld Nielsen started his artistic career when staying at Langeland's Art High School in Magleby in 1986. He is a member of 'Landmalerne' (Landscape painters) and has had a large number of both group and solo exhibition behind him.
If you would like to see more…
Keld Nielsen works from his studio in Kædeby, from where he has a view over the surrounding hilly landscape. Visitors to his studio are welcome. You can also see some of his paintings at Fiskeriets Hus in Bagenkop, where his work helps to tell the story of the town's fishermen.