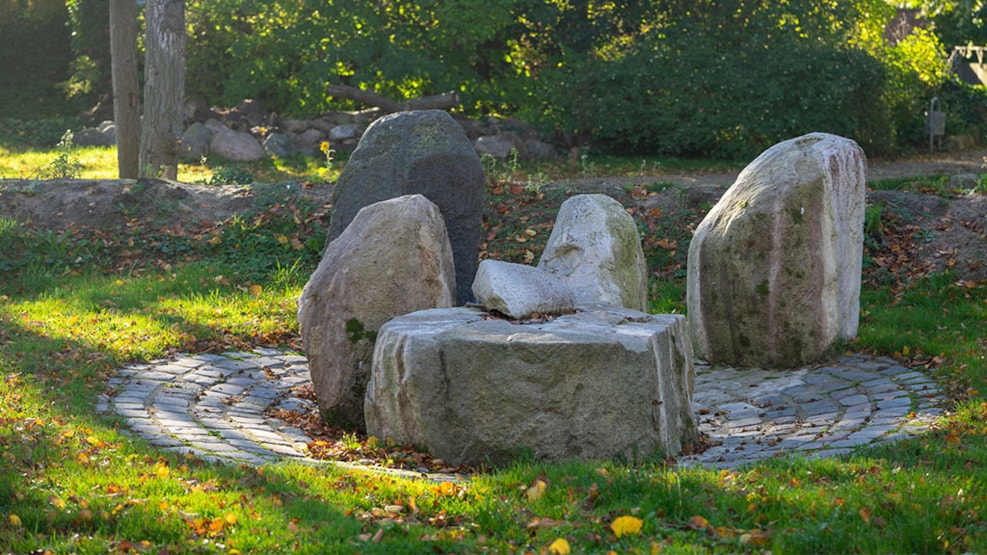 "Kildestene", Jan Axel Starup
A work to created to be enjoyed by Rudkøbing Hospital's patients and visitors
"Kildestene" (The Source Stones)
Artist: Jan Axel Starup
Installed: 1991
Note: When 'Kildestene' was first installed in what is now the Town Hall gardens, the gardens belonged to Rudkøbing Hospital.
The Friends of Rudkøbing Hospital Association was founded in 1973 and from 1982 they presented a gift to the hospital every year. On the occasion of the 10th presenation in 1991, it was thought that the gift should be a little larger,  therefore the Langeland artist Jan Axel Starup was invited to create a work of art. This work can still be see in the Town Hall Gardens, which today is designated as a garden for art and biodiversity.
Jan Axel Starup
Jan Axel Starup has lived on Langeland since 1969. He has an exploratory attitude towards art, working with different media including painting, drawing, graphics, video and sculpture. Starup has said himself that his way of working "… is like that of an explorer in the jungle who, without any guarantee of discovering something new, is relentlessly driven forward by an inner force. Perhaps he will manage to conquer new ground - perhaps not. It is essential for an artist in his work to spend time exploring his own boundaries - to progress in his work by constantly cross his own borders."
You can read more about Axel Starup's works here.
Also see...
One of Jan Axel Starups other artworks can seen seen in Tranekær. This work is called Galaxy.