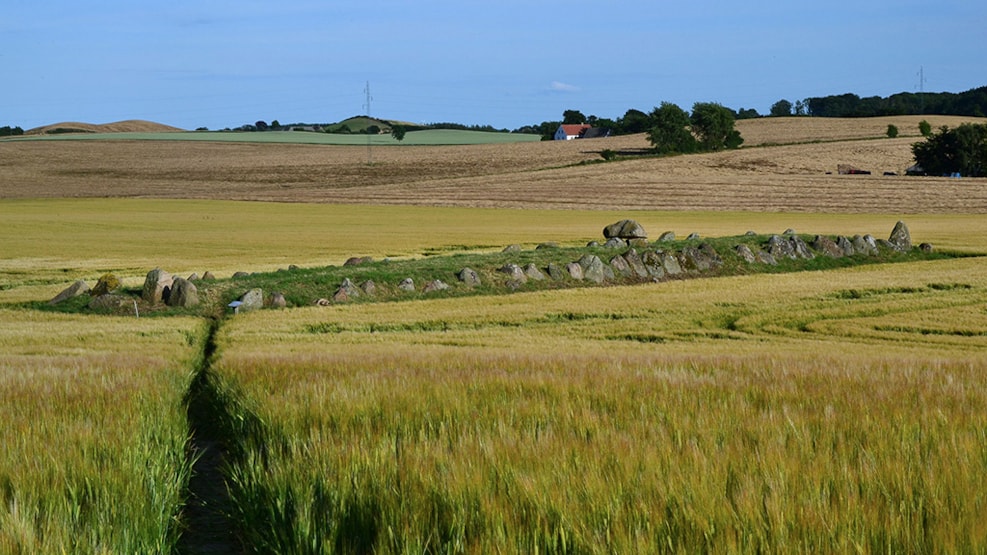 Long dolmen - "the King of Humble"'s Grave
The most well-known stone tomb on Langeland. 55 meters long and 8 meters wide with 77 curb stones.
This ancient monument with the mythical name "Kong Humble's grav" (King Humble's Tomb) is located in an open landscape - on the hill opposite of the Church of Humble.
400 meters and 5,000 years separate the two religious edifices.

An almost complete row of curb stones contributes to the monumental appearance of the ancient monument. The long dolmen has - somewhat unusual for such a large site - only one chamber. But the chamber's large vaulted deck also gives the chamber a monumental expression.

1875 registration
It is said from the registration in 1875 that by digging a little "from the bottom of the chamber… some remains of human bones were found'.
However, the dolmen was already examined at the beginning of the 18th century at the instigation of county bailiff Niels Hansen to Skovsbo. The startling find, "a row of bones of a giant," turned out to be more prosaically derived from a cow.

Near destruction
We can thank the founder of the Museum of Langeland Jens Winther for the well preserved long dolmen we have today. Stonemasons had drilled blasting holes in the curbs stones, but the destruction was stopped by the merchant and museum founder from Rudkøbing.

In 1910 the long dolmen was registered as "worthy of preservation" in agreement with the local farmer P. Chr. Jørgensen.

(Source: "Fortidsminder på Langeland", Langelands Museum)