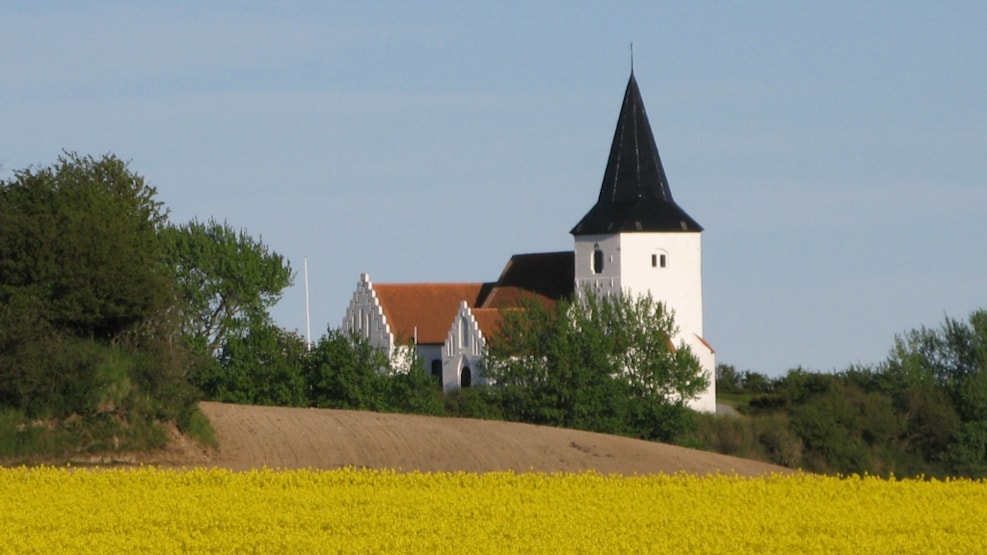 Magleby Church
Up on a low hill top, with a fine view of the reclaimed farmland of Magleby Nor, stands Magleby Church with its tall octagonal spire.
Like many of Langeland's churches Magleby Church was built during the Middle Ages. The church consists of a Romanesque nave, a late Gothic chancel, chapel, porch, tower and mortuary.  The current mortuary was formerly used as a porch. The church's original Romanesque doors are still preserved.
The tower's octagonal spire was added when the church was rebuilt in 1762. Rebuilding work was also carried out on the church  several times during the 19th century.
In the north wing of the church you can find an epitaph to Provost Dines Rosenstjerne, who died in 1677, while in one of the porches you can see a beautiful Romanesque gravestone decorated with a row of arches and a double processional cross.
In the churchyard a war memorial, in the form of a wall, is dedicated to the  English, Canadian and American airmen who were shot down over Langeland during the second world war.
Source: The Langeland's Churches, Langeland's museum