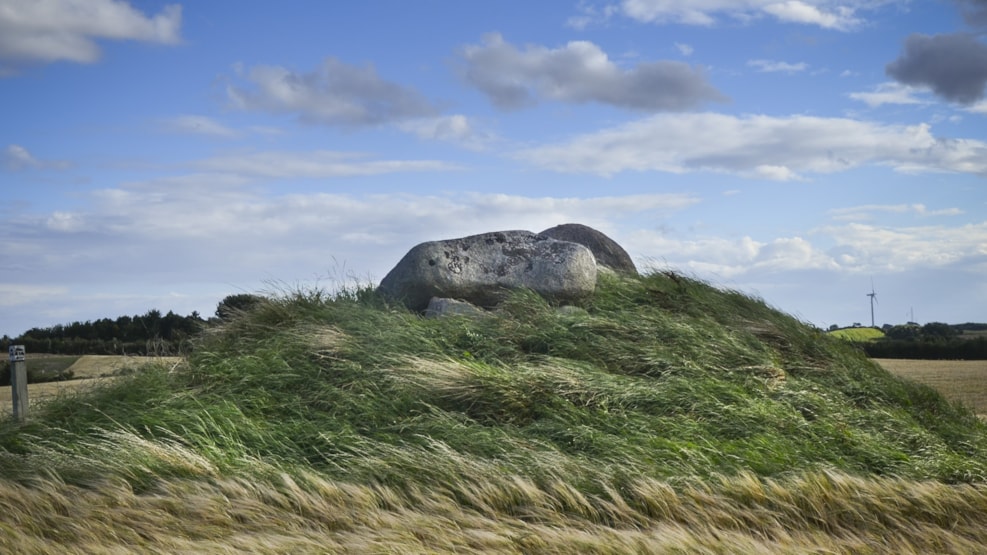 The Passage Grave Annemosehøj
Freestanding passage grave chamber in heavily plowed remnants of the original mound.
500 meters south of the dolmen chamber at Augløkkevej is the passage grave Andemosehøj, behind a house by the road and 50 meters into cultivated land.

1 km. down the road you can see 3 impressive buildings from the Neolithic - it testifies to how close these megaliths were built over a relatively short period.

If you had visited the place before 1854, you would also have been able to see another burial chamber "of the same kind and size on the nearest tuber to the northeast". However, it was cleared by the Road Administration. Since then, the removed burial chamber was no longer seen - until in 1903 a battle ax was plowed up which was given to the new Langeland Museum.
In 1918, human bones were plowed up, and Langelands Museum by Jens Winther decided to excavate the site and found bones from several individuals and a small number of antiquities.

At the same time as the Road Administration cleared one of the burial chambers, the regimental surgeon, district doctor Toft from Rudkøbing, went to the plant and excavated the other. The excavation gave a rich result.
Flint daggers, spearheads, flint axes and earthenware vessels were found and sent to the National Museum. The most startling find, however, was the bones of a dozen people who "sat with their backs to the wall and their legs across the chamber."

The burial chamber was built 5,000 years ago and has thus proved to be a resilient building, but over the last century it has still needed a little help.
After an inquiry in 1928 from Jens Winther, a lowered deck was put in place and supported with iron beams.
In 1982, the ancient monument was inspected again and it was found that the iron beams were corroded and no longer supported under the paving stone. 'The imminent risk of collapse and the consequent danger to life must be taken into account… URGENT CASE' was the conclusion. However, it took two years before the damage was repaired.

In 1999, a new restoration was needed. A supporting stone was secured, the floor in the burial chamber and corridor were cleared of earth and stones that had fallen from the mound, and the drywall was restored. In 1924, the graveyard was registered through an agreement with farm owner A. Brandt.


(Source: "Fortidsminder på Langeland", Langelands Museum)