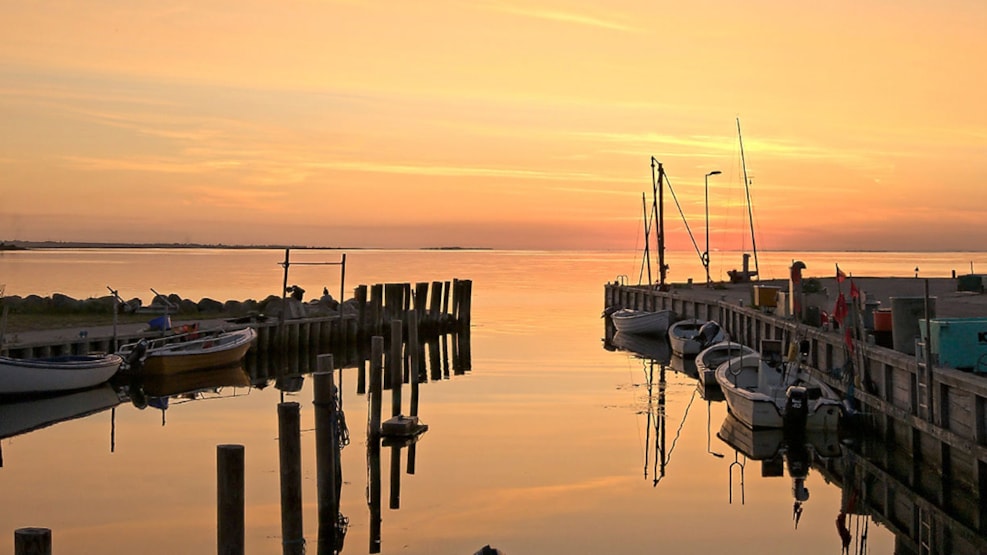 Ristinge Harbour
Langeland's smallest harbour - close to Langeland's best beach.
Langeland's smallest - and perhaps most charming - harbour has only 30 berths. It lies at the start of South Langeland's Ristinge Hale peninsular.
Lively harbour environment
This small yacht harbour is still used by local fishermen who set out from here to set their nets in the shallow waters of the archipelago. Depending on the weather, and the time of the year, it is possible to buy freshly caught shrimps, eels, mullet, sea trout and flatfish at the harbour.
Shopping
The local Minishop (800m from the harbour) stocks a small selection of groceries. Ristinge campsite (1500m) also offer a limited selection of basic goods.
The nearest supermarkets are in the town of Humble (6km).
Beautiful nature within walking distance
Close to the harbour you can enjoy seeing many exciting species of birds, and it is not unusual to spot white-tailed sea eagles in the area. The geologically interesting cliffs of Ristinge Klint are within walking distance of the harbour, and south of the cliffs you will find one of the best beaches in Denmark. Walking to the end of the nearby  Ristinge Hale is also make for an enjoyable excursion.
Staying Overnight
There are three small shelters close to the harbour.
You can book one of these shelters via  https://bookenshelter.dk/fyn/shelterplads/ristinge-havn/
Sailing Approaches
The harbour has a depth of 2m. It is possible to sail into the harbour during the hours of daylight.
Boat Ramp
There is a small boat ramp that can be used for launching dinghies at the harbour. Contact the harbour master for more information.