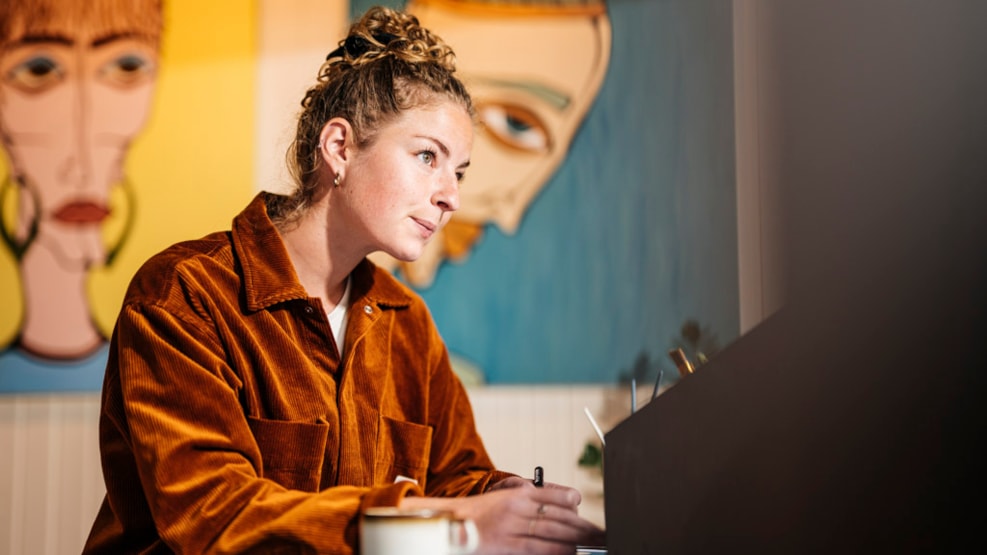 Silje Bruun Hansen - Visual Artist
Silje Bruun Hansen's paintings and drawings are striking and reflect human emotions, behaviour and movements
Young artist with local roots
At 25 years of age Silje Bruun is one of the youngest active artists on Langeland. But she is no newcomer to the island. She grew up in Rudkøbing and it was here in Rudkøbing's pedestrianised streets that she chose to settle down and, together with her partner, open a art café in a location that once housed a gallery well known to both locals living on Langeland and tourists alike. Namely the gallery in which Alfio Bonanno once had his studio before he and Lone Bonanno moved further up Østergade.
A focus on people and their emotions
Silje Bruun's pictures are striking. The same cartoon like figure appears is almost all of her paintings and is presented against a plain background with little indication of depth. The figure, which characteristically has bulging lips and bags under its eyes, reflects the moods and stories that Silje Bruun imagines belong to the pedestrians who parade past on the street outside.
"In the beginning I only used primary colours, red, yellow and blue, but as time passed I began to include other colours" says Silje whose paintings no longer feature pure, but more nuanced colour palette. Amongst other things, a yellowish brown, helps to emphasise that these figures are not aliens from outer space, but a part of ourselves - regardless of how the figure may be otherwise interpreted. Wether the figure holds a reflection of themselves in the form of a marionette doll, or there is a hole in the person's head through which you can see their alter-ego pictured in their brain, or he or she is wearing a striped suit and a black half-mask showing their imprisonment, it is always clear how the subject is feeling.
"My style gradually emerged as I drew and painted. But I simply love the people I create, because for me they represent so many different emotions and moods" says Silje Bruun.
She paints and draws using acrylic paints and Posca pens.
Biography
Silje Bruun Hansen is a self-taught artist. She has always been painting and drawing. Silje Bruun Hansen was born in 1997 and she grew up here on Langeland. In 2021 she opened the A&B Gallery together with her partner.