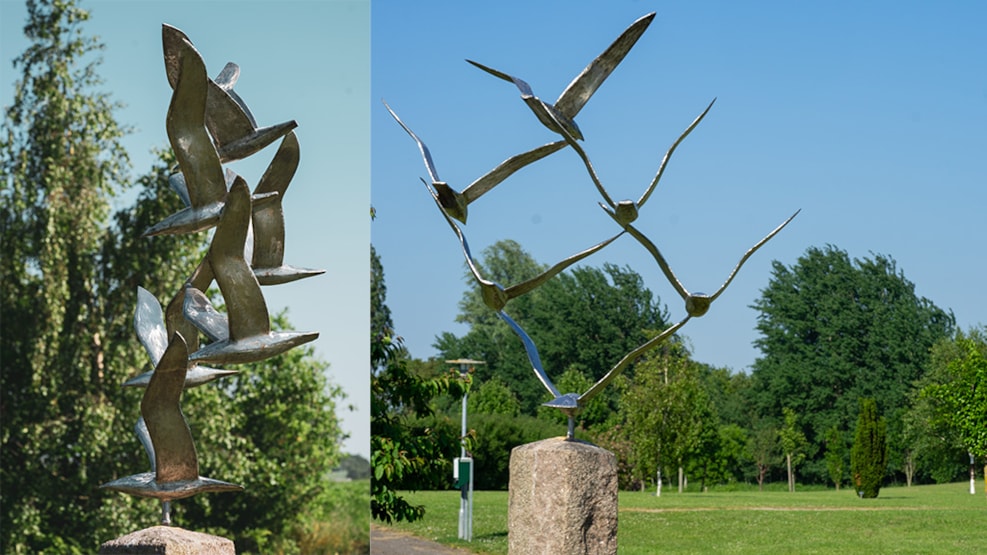 Six Birds, Helge Holmskov
This sculpture of six birds in Tullebølle's public park is a symbol of new times
Six Birds
Artist: Helge Holmskov
Created: 1969
A Flock of Birds
In Tullebølle's public park stands the sculpture 'Six Birds' by sculptor Helge Holmskov. As the title suggests the works represents a small flock of flying birds.
Some years ago, when Tranekær District Council was first created, the local bank-  Langelands Sparekasse -donated this sculpture to the local authority. It symbolises the municipality's six parishes (Tullebølle, Tranekær, Bøstrup, Snøde, Stoense and Hou) that now flew together in a united flock.
When Langeland's three District Councils were merged in 2007 the sculpture was moved from its origional site outside the council offices in Tranekær to the public park in Tullebølle.
The sculpture was created from stainless steel.
Helge Holmskov
Helge Holmskov (1912-1982) trained as a blacksmith and was a self-taught artist. His sculptures now adorn public spaces in towns all around Denmark. His work can also be seen in several museums. The bird motif recurs in many of his works.
Helge Holmskov eas born in the village of Rørbæk near Sakskøbing. At the time of his death he lived in  Dragstrup in the north of the Danish island of Zealand.