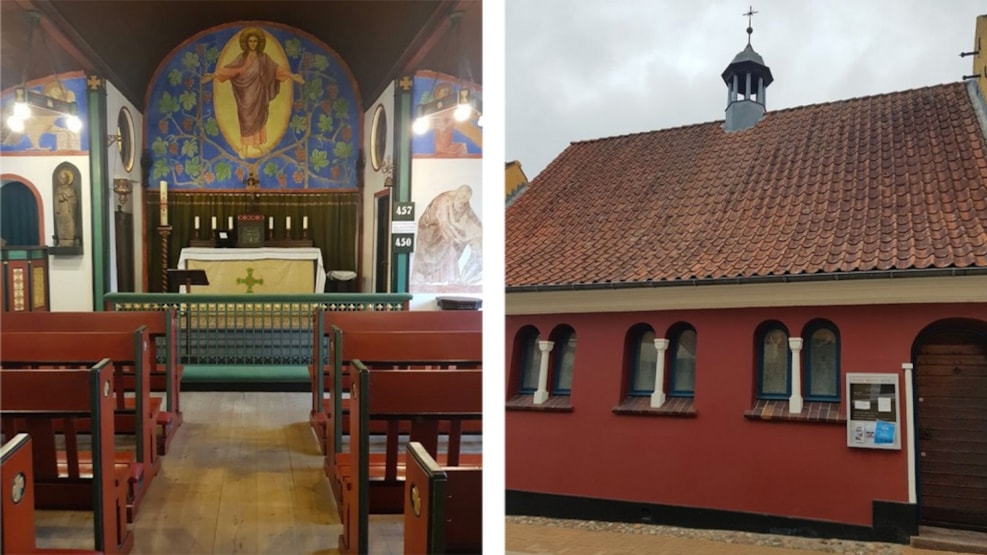 St. Bendts Chapel
Rudkøbing's Catholic Church was consecrated in 1925, and is named after Saint Benedict of Nursia.
Histor
y
St. Bendts chapel consists of two town houses that have been converted into a church. The need for a Catholic chapel in Rudkøbing arose when a large group of Polish catholics moved to the island to work in the suger beet industry. Fundraising for establishment of the chapel was started under the auspices of Father Peter Schindler, and enough money was raised to purchase Brogade 14 and Gåsetorvet 1, and repurpose them as a Catholic Church.
The chapels stained glass windows were created by the artist Chresten Skikkild, and it must be said they are some of the most beautiful glass mosaics of this type in Denmark. The painter Birgitte West also contributed to this project by decorating the walls with frescoes of a number of motives including St Joseph, Christ and vine leaves.
The chapel is open every day during the summer.