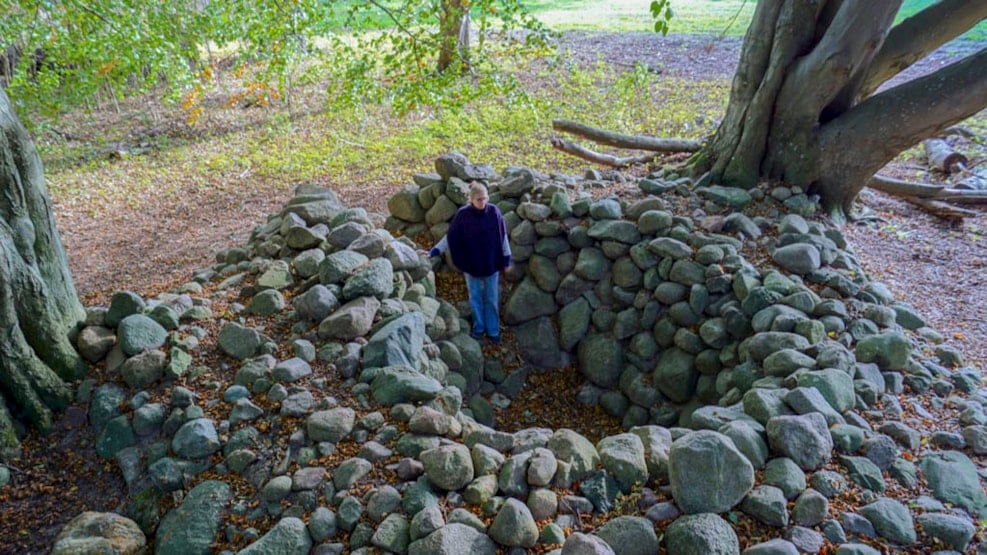 TICKON: A Hill of Contemplation, Herman Prigann
The German artist Herman Prigann has created an artwork that invites you, as a human being, to enter a constructive dialogue with Nature.
A Hill of Contemplation
Artist: Herman Prigann
Erected: 1995
N.B. An admission fee (25kr) is payable to enter the Castle Park
A space for reflection and meditation
Three ancient, multi-trunked beech trees provide the frame for Herman Prigann's work, 'A Hill of Contemplation'. The work has been created on a hilltop, and is designed not only to be a place of reflection, as the bowl-shaped depression lined with stones (or foliage) in its centre is an ideal place for meditation.
With views of the sky, of the delicate light green leaves of springtime, the darker green foliage of summer, the flaming reds and yellows of autumn - or the stark, bare branches of winter, Herman Prigann's bowl feels like a place where you, a human being, can enter into a constructive dialogue with nature.
Herman Prigann
Herman Prigann, born in 1942 in Recklinghausen, Germany, died 2008 on Mallorca, Spain. He studied painting and urban planning in Hamburg and has taught at the Bauhaus in Dessau. Up until his death, he lived and worked on Mallorca. In his early years as an artist his exhibitions were combined with 'happenings', later they were associated with fire. Perhaps his best know work was made in 1992 for the Sprengel Museum in Hannover. On a site that spread across the former border between East and West Germany he created the work "Ring der Erinnerung": a high, wide rampart of earth and wooden posts, some 50 meters in diameter, with entrances at the four points of the compass.
Learn More
Read more about TICKON here.