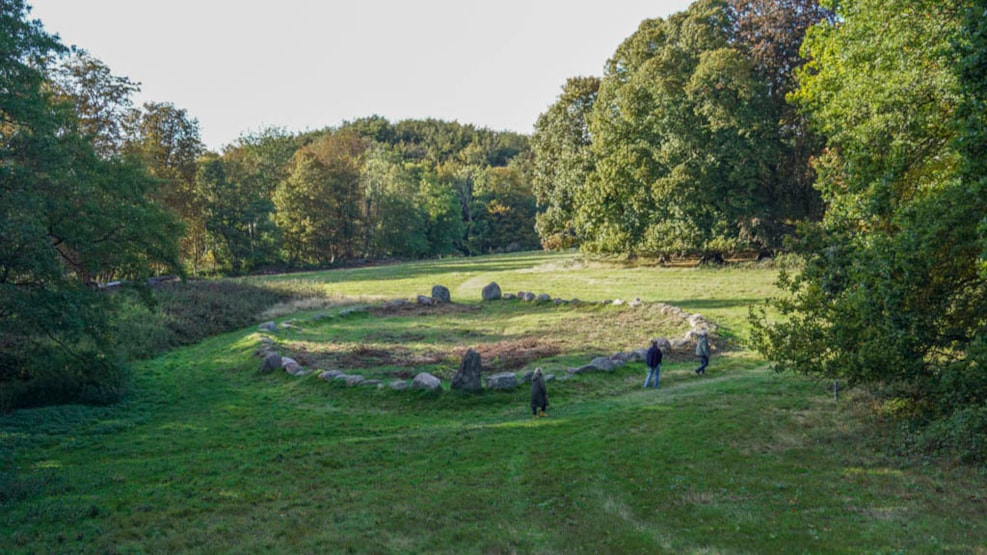 TICKON: The Maze of the Great Oak of Denmark within Stone Ship - 1001 Young Trees, Alan Sonfist
Alan Sonfist's ship setting in TICKON has become the park's symbol - the shape of ship enclosing an oak leaf
The Maze of the Great Oak of Denmark within Stone Ship - 1001 Young Trees
Artist: Alan Sonfist
Installed: 1993
N.B. An admission fee (25kr) is payable to enter the Castle Park
A Tribute to Denmark
Of the original work, only the stones remain - they, on the other hand, will remain here for ever, making visitors, and perhaps in the future archaeologists, believe that this is a 'ship burial' from the Bronze Age, Iron Age or the Viking Period.
The artist's intention with this piece was to pay tribute to Denmark - or more precisely our ancient burial monuments, and to the proud Danish oak tree. Therefore no fewer than 1001 oak saplings were planted within the stones - the trees even stood in a pattern that looked like an oak leaf, marked out with field stones.
Today plants still grow within the large stones, but not the oaks that were once planted, as they did not thrive in the soils found on the hill. Instead the local, natural vegetation has taken over the role of representing Denmark.
From time to time visitors ask why TICKON doesn't replant oak trees here. There are two answers to this: Firstly it is not TICKON's mission to radically change nature - an oak plantation here would require constant human intervention to survive and secondly, what happened was precisely what we intend to happen with our artworks. Nature is expected to gradually take them over, eventually only leaving behind echoes of the original work - in this case the indestructible stones.
A fusion of nature and culture is typical of Alan Sonfist's work, for example in 1990-92 he filled an old hawk missile with soil and young trees, in the expectation that the trees would one day burst out of the missile.
Through his art he wants to prove that nature is still capable of regaining control. In the midst of pollution - such as a landfill site - he will deposit soil and plant trees. He is also interested in how civilisations replace each other. In his work 'Circles of Time' which he created in Tuscany during the late 1980's, he established ever expanding concentric circles each of which represented a period of European culture. In the centre is a circle containing tree species from before the age of man, then a circle of plants known from the Etruscan bronze age, then came laurels representing the Greeks, stone paving for the Romans etc.
Alan Sonfist
Alan Sofist was born in 1946 in the South Bronx district of New York. He has mainly worked in the United States, but has also created works in Germany, Brazil, France and Italy - both Natural Artworks, sculptures and projects designed to bring the original into focus, making it more visible.
Read more
Read more about TICKON here.