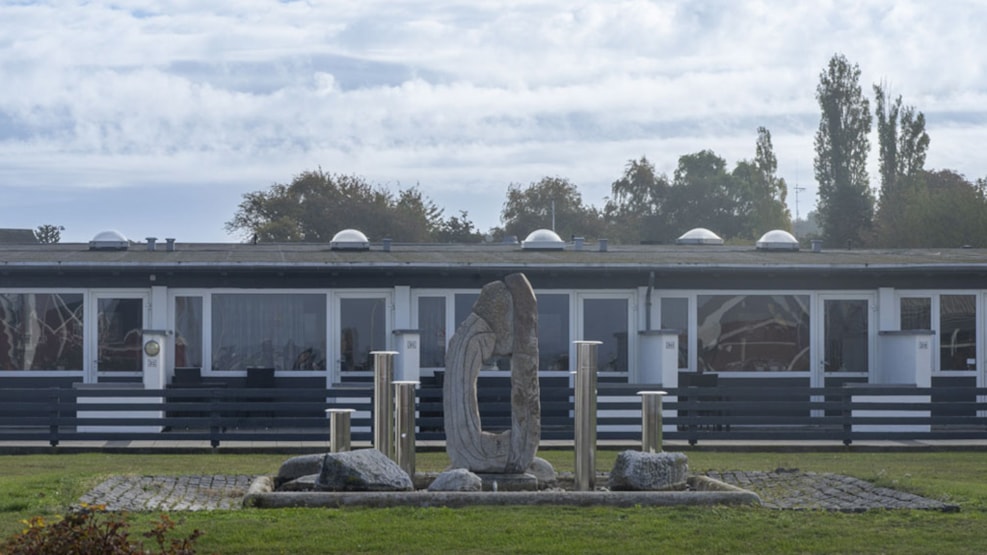 "Vandkunst" (Water-Art) , Finn Nielsen
An artwork that appears light and fluid despite being made of stone
"Vandkunst" (Water-Art)
A rustic dream
Close to Bagenkop harbour you can find an artwork created by Langeland sculptor and stone mason Finn Nielsen.
The piece is typical of Finn Nielsen's work in stone and illustrates his great respect for this material in its raw form. The work's central element is a large stone that Finn Nielsen has worked upon to create textured patterns on its surface and a large hole in its center. The stone stands upon a plinth and givers the appearance of being light and fluid despite being created from such a heavy material. It is surrounded by a rectangular basin, that has been filled with unworked stones of different sizes and six vertical stainless steel tubes of differing heights.  The  basin is surrounded by a rectangular area paved with cobblestones. 
Biography
Finn Nielsen (1948-2022) trained as a stonemason at Handbergs Stenhuggeri between 1962-66. During his atistic career he presented his work in both several curated exhibitions and a number of solo exhibitions. He undertook commissions for projects all around Denmark.
His work can also be seen at Lollands Stiftsmuseum in the town of Maribo, Skive and Malmøs Art Museum.
Finn Nielsen was a member of the Colourists, the Association of Visual-Artists and the Danish Sculptors Society.