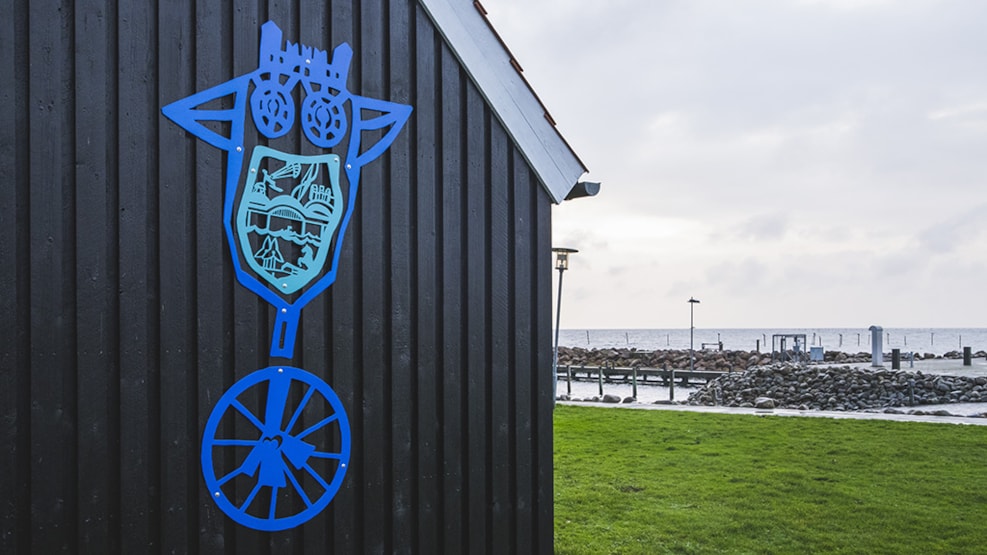 "Fugl Føniks" (Bird Phoenix), Per Buk
A bird with eyes as big as bicycle wheels and a belly full of local symbolism has landed in Spodsbjerg
"Fugl Føniks" (Bird Phoenix) 
Artist: Per Buk
Created: 2022
A belly full of local symbolism 
In 2022 a new cylce route was established on Langeland (together with Ærø and Funen) called the  "Herregårdsruten" (Manor House Route). To mark the occasion the island gained a new artwork : Fugl Føniks. The work was created by local artist Per Buk, who says the following about the work:
At the beginning of 2022 the organisation Destination Fyn appointed me as the artist who would create sculptural features to be seen along the "Herregårdsruten". Today a total of 10 of these sculptural reliefs can be seen on Funen, Ærø and Langeland. One in each "kommune" (Councel district). All are designerd as a bird with different symbols in its belly, that tell the story of the district they are hanging in. On Langeland the bird's belly contains, from the top: Kitesurfing/watersports, the symbol of electromagnetism - a tribute to  H. C. Ørsted, the Langeland Art Towers, hathills and dolmens. In the middle the Langelands Bridge can be seen, under which  is a submarine's periscope which symbolises the Langeland Cold War Museum. Below are the Wild Horses at   Gulstav, a profile of Dovns Klint and finally windmills to represent Langeland being a the forefront of green energy production. In this way each sculptural relief itells the history of its Kommune and shows some of the area's geographical and cultural DNA. In my artistic approach, I aim to arose the curiosity of the viewer. Hopefully it will inspire them to explore the area further, and make detours away from the 660 km long "Herregårdsruten" cycle route.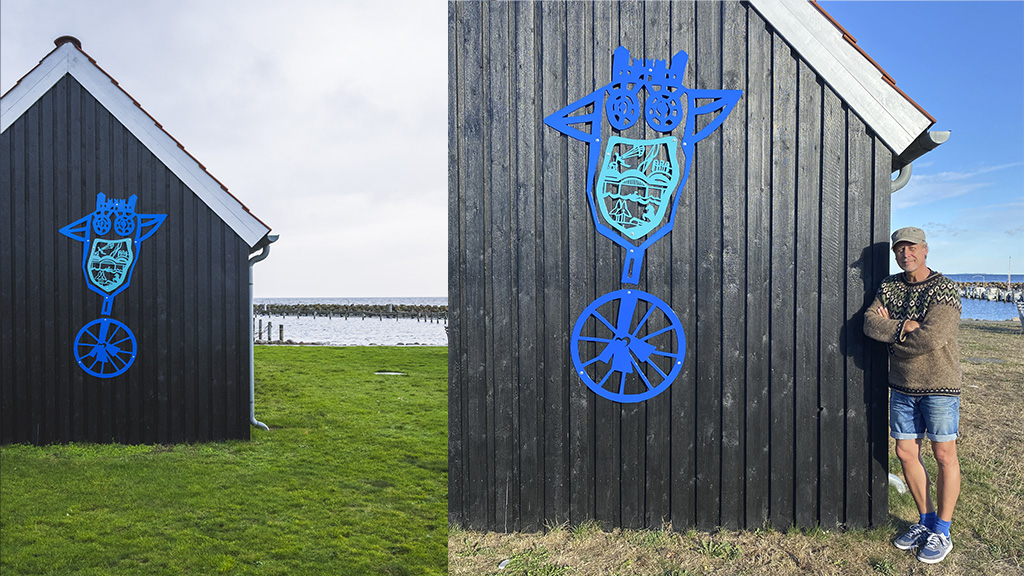 Per Buk
Artist and sculptor Per Buk (b. 1969) challenges himself creatively in an idiom which takes fables, birds and imaginary figures as its starting point. He works with painting, graphics, watercolours, ink drawing, sculpture and ceramics. His creations come in a range of sizes that are suitable for both private homes and larger decorative projects.
Per Buk moved to Langeland in 2019 and today runs the art gallery GALLERI NO 44 at Ristingevej 29, 5932 Humble.