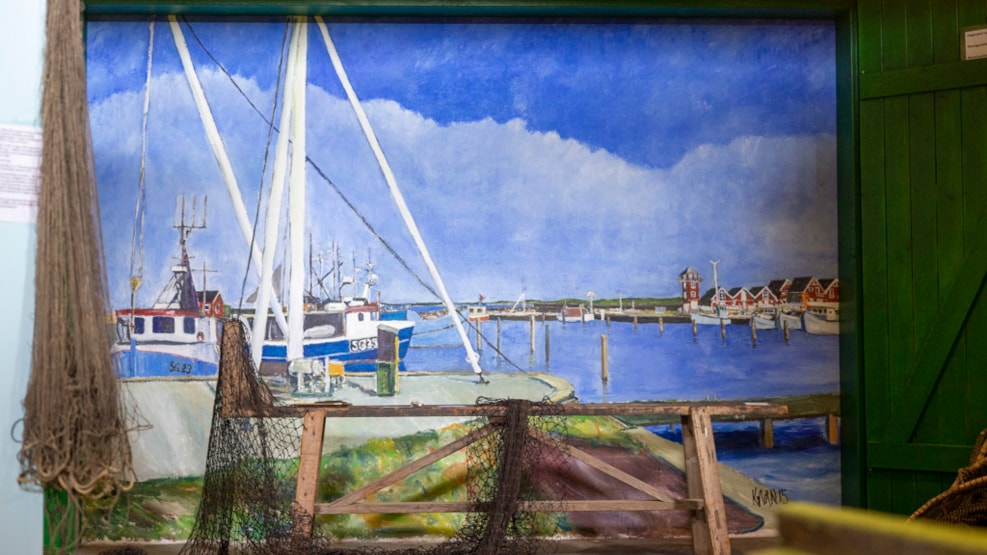 Mural, Fishermens House, Keld Nielsen
As a backdrop to the story of fishermens lives in Bagenkop, two large works by Keld Nielsen have been put on display in Fishermens House.
Murals
Fishermen's House
Since 2015 volunteers have put thousands of hours into creating the museum, Fishermans House, that tells the history of the local fishing industry here in Bagenkop. During the 1960s the town had the 5th largest fishing fleet in Denmark and its own fish processing factory. Today however, the commercial fishing industry on Langeland is experiencing hard times.
About the artwork
Two large Murals by Keld Nielsen have been put on show in the Fishermans House, they act as a backdrop to the story of commercial fishing in Bagenkop. One helps to create the illusion that you are looking through a door out into the harbour that you might imagine is just on the other side of the wall. The other acts as the backdrop to a diaorama that shows how Bagenkop harbour looked during the period there was a ferry line between Bagenkopand Kiel.
Keld Nielsen works with acrylic and oil paints on canvas, and with a mixed technique of chalk and acrylics on paper. Landscapes, especially those found on Langeland, are his favourite subject. You can read more about  Nielsen here 

See Also:
In the Fishermans House you can also see on display a series of portraits of the town's fisherman, painted by the local artist Solveig Moa