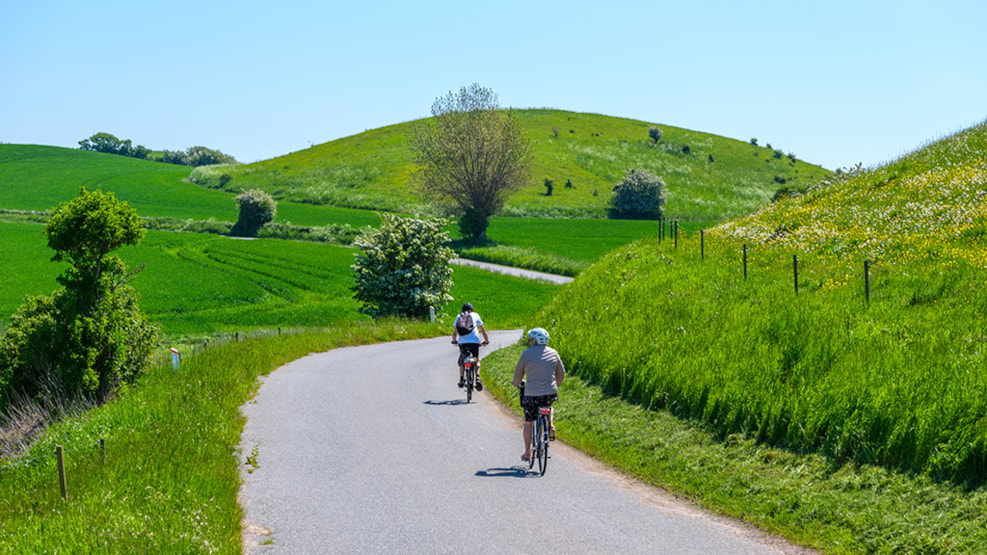 Cycle Routes 82 -83 South Langeland
Rudkøbing - Bagenkop - Spodsbjerg is a scenic, well signposted cycle route through Soyh Langeland. The route is 65km long, only 3km of which is along gravel tracks.
Cycle Route 82  Rudkøbing - Lindelse - Bagenkop
This sign-posed route starts in Rudkøbing from where it takes you along narrow country roads to Lindelse. Just before Lindelse this route meets Route 83 and continues south towards Bagenkop.
Take a stop at Skovsgaard Gods (Manor) where you can enjoy many wildlife activities. Here you can also visit a number of museums, see wild horses and cattle and eat lunch in the café. South of Humble the route takes you along the west coast of Langeland through a hilly landscape offering great views of the sea.
From Bagenkop you can take an optional detour to the south tip of the island and see the wild horses at Gulstav. Close by you can also visit the "Jættestue" at Hulbjerg - the most beautiful stone-age passage grave on the island.
 
Cycle Route 83 Bagenkop -Lindelse - Spodsbjerg
Cycle Route 83 starts in Bagenkop and follows the same roads as cycle route 82 until you reach Lindelse. North of Lindelse route 83 turns east past Lindelse Mill, then takes you along quiet country roads, through beautiful landscape and small villages, until you reach Spodsbjerg.
The last 3km before you reach Spodsbjerg is along a gravel track.
See the map prepared by Denmark by Bike with a detailed description of this route.